Roll over image to zoom in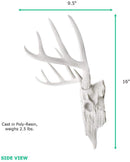 Description
WALL CHARMERS MINI WHITE + GOLD ANTLER FAUX DEER SKULL with stunning detail, to make any room or gallery wall POP!

HANDMADE POLYRESIN that is hand painted in Arizona for a piece as unique as you are!

16" TALL x 14.5" WIDE x 9.5" DEEP. WEIGHS 2.5 LBS.

REMOVABLE ANTLERS - Labeled "L" and "R" as you look at the Faux Deer Skull. Add glue and attach!

EASY MOUNTING with a nail or Monkey Hook with a built-in metal keyhole on the back.